Travis Gienger, posing with his 2,350-pound pumpkin, October 12, 2020. Photo: AP
The winner, Travis Gienger, 40, of Anoka County, Minnesota, said he spent a lot of time in his pumpkin garden, sometimes watering the plants 10 times a day and fertilizing them a little. at least twice daily to achieve a massive pumpkin weight  of 2,350 pounds (1,066 kg).
On October 12, Gienger struggled to find a way to move his giant pumpkin for 35 hours to the competition site at the 47th World Championship Pumpkin Competition in Half Moon Bay, south. San Francisco.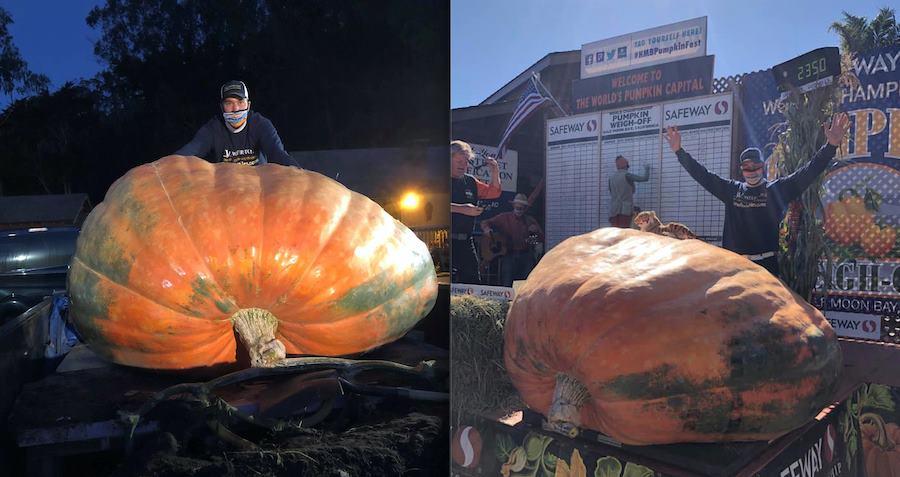 "I was so stressed out because I was afraid that a collision along the way would break the giant squash, and then it was finally weighed, and the results were unbelievable!" Mr. Gienger said.
Mr. Gienger said that he is working as a bonsai sculpting teacher at Anoka Technical College and has had a hobby of growing pumpkins since he was a child, inspired by his father. This year is his first time participating in the competition and it is not certain that he will return next year.
As is customary, the winner of this year's contest will win a prize of $16,450, or an additional $7 for every pound of his pumpkin, after which the pumpkin will be paraded around the bay. Half Moon.
The process of transporting the giant pumpkin to the competition site is very difficult. Photo: AP
In the contest's history, Gienger's pumpkin was ranked second, behind the heaviest pumpkin in the 40th time in California. However, this pumpkin is still far behind the US record, when in 2018 a professional pumpkin grower in the state of New Hampshire produced a pumpkin weighing more than 2,500 pounds, or 1,134 kg.
According to the world record book for the heaviest pumpkin on the planet, was recorded in 2016 at the European Biggest Pumpkin Championships in Ludwigsburg (Germany), when a Belgian farmer owned a pumpkin. weighs more than 2,600 pounds, or 1,179 kilograms.